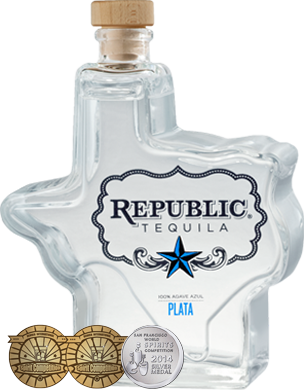 Color & Body
Brilliantly clear platinum with a medium body; an expression of the highest purity as a result of continuous column distillation.
Aroma
Fresh, citric, and botanical. Herbal notes suggest agave fields with subtle tones of mint and spices.
Taste
Light with undertones of pear, mint, and spices; a fine balance of spirit and agave notes.
Finish
Clean, warm, smooth spirit notes; open and pleasing.
DOUBLE GOLD MEDAL WINNER
2014 Denver International Spirits Competition
SILVER MEDAL WINNER
2014 San Francisco World Spirits Competition
92 POINTS "EXCELLENT RECOMMENDATION"
Ultimate Beverage Challenge
Republic Plata Tequila is unaged but allowed to rest three to five days after distillation. Aeration along with the resting period results in an ultra-smooth, clear spirit. With its silky feel, our herbal, spicy, sweet Plata is the ideal tequila for your favorite cocktail.
Explore our range of tequila