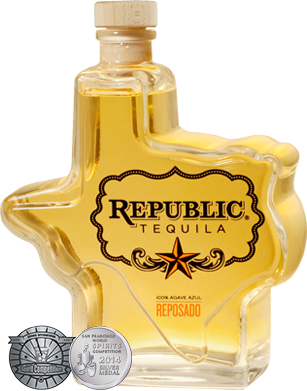 Color & Body
Clear tones of agave syrup with medium body.
Aroma
A harmonious blend of vanilla, black olive, cooked agave, and wood.
Taste
Slightly sweet with clear notes of apple, eucalyptus, and oak.
Finish
Pleasingly warm spirit notes that are smooth on the palate, leaving behind a hint of sweetness.
SILVER MEDAL WINNER
2014 Denver International Spirits Competition
SILVER MEDAL WINNER
2014 San Francisco World Spirits Competition
Republic Reposado Tequila is aged for seven months in American White Oak bourbon barrels. This aging process allows the tequila to take on the complex characteristics of the oak barrels, while still keeping the sweet properties of the agave plant. Reposado starts with a burst of apple and eucalyptus, with a long finish of oak and mint.
Explore Our Range of Tequila